De Liefhebber specializes in Dutch spirits, beers and liqueurs. Have a look at this impressive list of specialities...
Zuidam Distillers
Grain Genever
Dinklewheat Genever
Rye Genever - 1 year
Old Genever - 5 years
Korenwijn - 10 years
Korenwijn - 18 years PX

Herman Jansen
Bobby's Jenever

Hooghoudt Distillery
Kever Genever
De Borgen Old Style
Borgen Malt Cask finish

Nolet DIstillery
Ketel 1 Genever
Ketel 1 Matuur

Van Kleef
Grain Genever
Korenwijn
Korenwijn 5 year

Onder de Boompjes
Genever 10%Malt

Old Dutch 3 year

Korenwijn 4 year
100% Malt 5 year

Golden Arch Distillery
Jajem Genever

Jajem Genever 1 year
Rutte Distillery
Old Simon

Paradyswyn

Oat Genever

Barrel Aged Genever

Lucas Bols Distillery
Barrel Aged French Oak
Corenwyn 6 years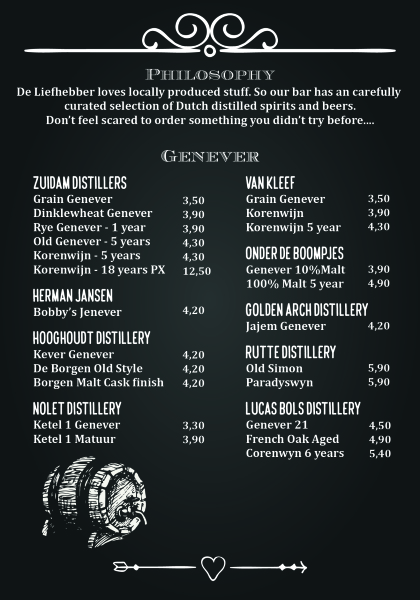 Zuidam Distillers
Dutch Courage Aged Gin
V2C Orange Dry Gin

Herman Jansen
Bobby's Dry Gin

Nolet Distillery
Nolet's Silver

Onder de Boompjes
Sylvius Gin

Gastrogin by Jonnie

Vørding's Gin

Rutte Distillery
Rutte Celery Gin

Mare Distillerias
Gin Mare Holanda

All our gin & tonics are served the best possible way with premium tonics and home made infusions.
We even add drops of peculiar bitters to finish it off...
Whiskey
Millstone 100 Rye Whiskey
Millstone Peated PX
Millstone 5 year Light Peat
Millstone 5 year Single Malt
Millstone 10yo American

Hibiki Master Select

Laphroaigh Brodir

The Balvenie 16y Triple Cask

Rum
Flying Dutchman 1 year Gold
Flying Dutchman 5 year PX
Diplomatico Reserva
Havana Club 3 Year

Mezcal

Nuestra Soledad Ejutla

Vermouth
Willem's Wermoed
Carpano Antica
Dolin Dry
Lillet Blanc

Vodka
The Stillery Dinklewheat
Ketel One Vodka
Ketel one Oranje

Paloma
Arette 100% Agave tequila - grapefruit

Irish Ginger
Ginger-mint infused whisky, ginger ale - lime

Dark 'n Stormy
Caramel infused dark rum - ginger beer - lime

Wermut
Spice infused wine - Fever Tree tonic - lemon


Gin & Tonic

Your choice of gin, tonic, bitters and garnish
Bogi
Genever, mint, lime & ginger ale​

Cola
Lemonade
Lemonade
Tonic
Tonic
Orange Lemonade
Bitter Lemon
Cassis
Iced Tea
Water
Ginger Ale
Ginger Beer
Grapefruit Soda

Coca Cola (Zero)
Fever Tree sicilian lemonade
Sprite
Fever Tree indian Tonic
Schweppes hibiscus
Fanta
Schweppes bitter lemon
Fanta cassis
Fuze Tea green/regular
Chaudfontaine still-sparkling
Fever Tree (Smokey) ginger ale
Fever Tree ginger beer
Ting grapefruit

Fresh Coolbest

Freshly squeezed Orange juice with strawberry puree
Smoothy

Seasonal fruits into a smoothie
Juices:

Fresh Orange Juice
Organic Apple Juice

Draught
Hertog Jan Lager

Hoegaarden White
Leffe Blond
2 Changing taps
La Trappe
La Trappe
La Trappe
Karmeliet
Straffe Hendrik
Kasteel
Kasteel Cuvee de Chateau
Palm
Becks
Duvel
Liefmans Fruitesse
Liefmans Cuvee Brut
La Chouffe
Mc Chouffe
St. Bernardus Prior
St. Bernardus Triple
St. Bernardus Abt
Hertog Jan Grand Prestige
Amsterdam Brew Boys
Jopen Extra Stout
Jopen Mooie Nel
Somersby Apple
Amstel
​

Double
Triple
Quadruple
Triple
Quadruple
Sweet Rouge
Barrel Aged
Amber Ale
Lager
Triple
Fruitesse
Kriek
Triple
Double
Double
Triple
Abt
Barley Wine
Pale Ale
Extra Stout
IPA
Cider
Radler